Professional Renovation
& Remodeling Services

Get the Most Out of Your Investment
Advanced Real Estate Services offers professional renovation and remodeling services for homes, apartments, condos, and other properties in San Diego.
Our goal is to keep your property in optimum rent- or sell-ready condition so you can make the most out of your investment; whether you rent out a four-unit apartment complex or own a home that could use a refresh before you sell.
Dark or cramped interiors, old kitchens, and outdated appliances can hurt your property value, especially when you're trying to sell or rent. Trusting our professional renovations team in San Diego will ensure that your property continues to provide a return on investment.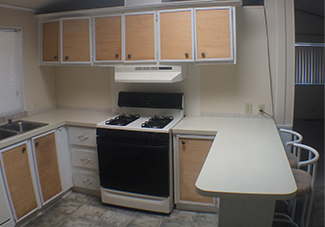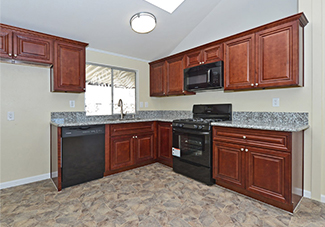 Major Kitchen Overhaul
After a complete kitchen overhaul, this property was totally transformed! This beautiful, custom built kitchen features cherry wood cabinets, brand new energy saving appliances, and beautiful high-end granite countertops.
The goal here was to update, brighten, and modernize the space; by removing the counter seating and extended peninsula, we opened up the area while still maintaining its warmth and intimacy as a family gathering place. Functionality, comfort, and modern design come together to really transform this small, yet practical space.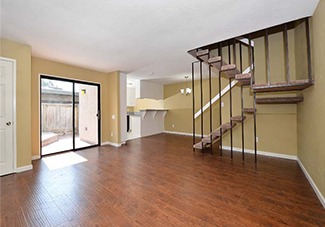 Spacious Lower Level Upgrade
For this project, we created a more functional, welcoming lower level space. We replaced the outdated carpet and chipped paint with beautiful hardwood floors and an updated, brighter paint job to create a more functional recreational area.
We shortened the wall by the stairs to really open up the space and allow it to flow nicely into the next room – making this lower level area the perfect place for family gatherings and parties. A fresh coat of paint helped to refresh the staircase, and new sliding glass doors were added to create a welcoming entrance to the backyard patio.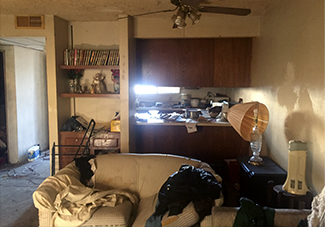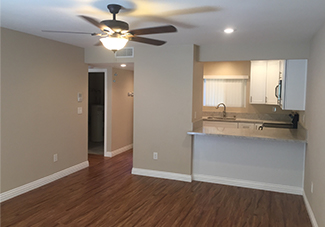 Amazing Living Room Transformation
Gorgeous hardwood floors, new cabinets, and a fresh coat of light paint worked wonders to brighten up this cluttered, darker living room. We created a cleaner and more spacious living area by removing the shelves/storage unit next to the kitchen, and updated the dark wood cabinets to a lighter and more modern bright white.
Along with brand new stainless steel appliances, a fresh color palette, a more open kitchen and living room arrangement, and a design that accentuates the room's flow, the space is now welcoming and ultra-modern.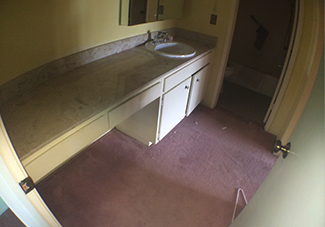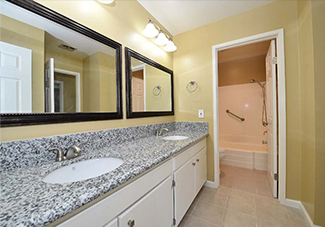 Stunning Master Bath Upgrade
For this upper level master bath, we turned a dark and cluttered space into a completely functional, bright, and modern bathroom. After a major redesign, this contemporary space boasts a stunning, brand-new vanity area and custom-built cabinets that make the most of the space.
We added a second sink, brand new granite countertops, and more storage underneath with white cabinets. Ultra modern light fixtures paired with sleek, large double mirrors really transform this master bath into a sanctuary!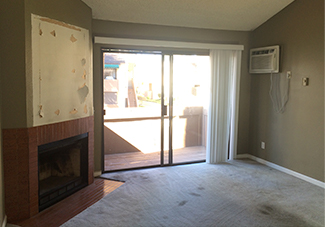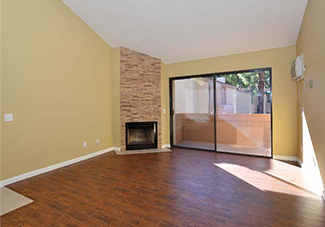 Light & Bright Living Room Reno
For this living room, we replaced the dated, white carpet with a rich mahogany wood flooring, and repainted the space with a light, bright yellow to make the area more inviting and welcoming.
We added a bit of character to the fireplace with a custom made floor-to-ceiling brick backsplash, and removed the outdated window drapes to open the space up even more. The striking new brickwork makes the fireplace a focal point of the room, and a quick refresh to the balcony doors really brings the indoor/outdoor space together.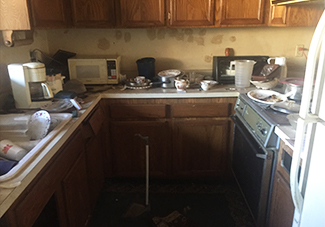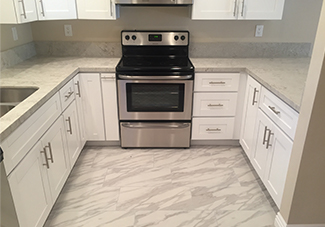 Bright & Spacious Kitchen Upgrade
The addition of bright white cabinets, custom made granite countertops, new flooring, and stainless steel appliances in this kitchen made all the difference.
Removing the dark, outdated cabinetry and old appliances really opened the space up and allowed us to add a few striking modern touches, like the unique, custom built tile flooring and high-end granite countertops. Moving the range from the tight right-hand corner to a roomier area in the middle of the kitchen improved the overall flow of the room and really maximizes the space's functionality.
Our Professional Renovation Services
Full unit rehabilitation / remodels
Flooring
Paint
Cabinets, countertops
Lighting
Plumbing
Windows
Unit walkthroughs
Damage and replacement assessments
Local market research to determine competitive rates
Post-move-out unit renovations
Post-move-out maintenance
Plumbing
Electrical
Inspections
Full house remodel (kitchen, bathroom, living space, garage)
Flooring
Painting
Cabinets, countertops
Lighting
Plumbing
Windows
Appliances
Room additions
Kitchen additions
Bedroom additions
Living space additions
Custom renovations
Appliance replacement
Custom interior work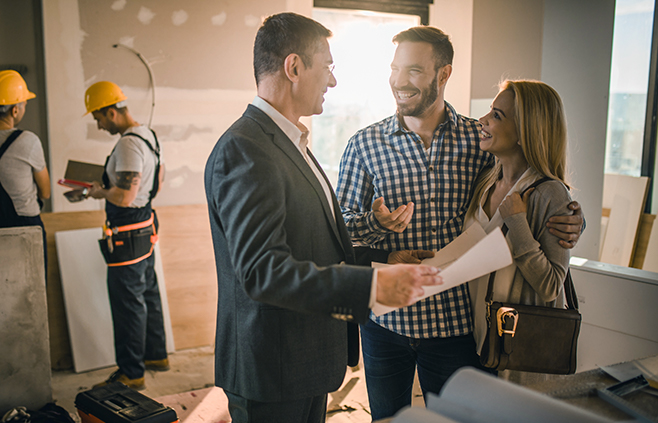 A Team You Can Trust
If you own San Diego rental property or your own home, you know how important it is to take charge of your investment and find a renovations team you can trust. From handling full-scale renovations to room additions and everything in between, ARES can help manage or remodel your property effectively and efficiently.
To get started, give us a call at (619) 521-1993 or check out the other services we offer.

We take pride in our decades of experience managing and maintaining thousands of properties in San Diego County, from as far north as Oceanside to the more southern communities of Chula Vista and National City.
Whether you own a single property or you're juggling a large portfolio of local rentals, we're equipped to help you meet your investment goals. Our renovations team can get the job done efficiently, cost-effectively, and on time.